Tuesday, January 31, 2006
Monday, January 30, 2006
*
The black cat does not die. Those same books, if I am not mistaken, teach that the black cat is deathless. Deathless as evil. It is the origin of the common superstition of the cat with nine lives.
-Peter Ruric, and Edgar G. Ulmer. Edgar G. Ulmer. Hjalmar Poelzig (Boris Karloff), The Black Cat, discussing the shooting of a black cat (1934). Suggested by the Edgar Allan Poe story.
*
Sunday, January 29, 2006
Twas on a lofty vase's side,
Where China's gayest art had dyed
The azure flowers that blow;
Demurest of the tabby kind,
The pensive Selima, reclined,
Gazed on the lake below.
Her conscious tail her joy declared;
The fair round face, the snowy beard,
The velvet of her paws,
Her coat, that with the tortoise vies,
Her ears of jet, and emerald eyes,
She saw; and purred applause.
Still had she gazed; but 'midst the tide
Two angel forms were seen to glide,
The genii of the stream:
Their scaly armor's Tyrian hue
Through richest purple to the view
Betrayed a golden gleam.
The hapless nymph with wonder saw:
A whisker first and then a claw,
With many an ardent wish,
She stretched in vain to reach the prize.
What female heart can gold despise?
What cat's averse to fish?
Presumptuous maid! with looks intent
Again she stretched, again she bent,
Nor knew the gulf between.
(Malignant Fate sat by and smiled)
The slippery verge her feet beguiled,
She tumbled headlong in.
Eight times emerging from the flood
She mewed to every watery god,
Some speedy aid to send.
No dolphin came, no Nereid stirred;
Nor cruel Tom, nor Susan heard;
A favorite has no friend!
From hence, ye beauties, undeceived,
Know, one false step is ne'er retrieved,
And be with caution bold.
Not all that tempts your wandering eyes
And heedless hearts, is lawful prize;
Nor all that glisters, gold.
Saturday, January 28, 2006
SAM - 1990-2006
A ghost, though invisible, still is like a place
your sight can knock on, echoing; but here
within this thick black pelt, your strongest gaze
will be absorbed and utterly disappear:
just as a raving madman, when nothing else
can ease him, charges into his dark night
howling, pounds on the padded wall, and feels
the rage being taken in and pacified.
She seems to hide all looks that have ever fallen
into her, so that, like an audience,
she can look them over, menacing and sullen,
and curl to sleep with them. But all at once
as if awakened, she turns her face to yours;
and with a shock, you see yourself, tiny,
inside the golden amber of her eyeballs
suspended, like a prehistoric fly.
Friday, January 27, 2006
At the end
I became them
And I led them
After all none of us really qualified as humans
We were just hardworn, automatic
And as hollow as the o in god
I reattached my emotions
Cellular narcotic
From the top of hollywood
It looked like space
Millions of capsules
The mechanical animals
A city filled with dead stars
A girl I called coma white
This is my omega
Thursday, January 26, 2006
Democrats and Republicans both adept at ignoring facts, brain scans show
Democrats and Republicans alike are adept at making decisions without letting the facts get in the way, a new study shows.
And they get quite a rush from ignoring information that's contrary to their point of view.
Researchers asked staunch party members from both sides to evaluate information that threatened their preferred candidate prior to the 2004 Presidential election. The subjects' brains were monitored while they pondered.
The results were announced today.
"We did not see any increased activation of the parts of the brain normally engaged during reasoning," said Drew Westen, director of clinical psychology at Emory University. "What we saw instead was a network of emotion circuits lighting up, including circuits hypothesized to be involved in regulating emotion, and circuits known to be involved in resolving conflicts."
Bias on both sides
The test subjects on both sides of the political aisle reached totally biased conclusions by ignoring information that could not rationally be discounted, Westen and his colleagues say.
Then, with their minds made up, brain activity ceased in the areas that deal with negative emotions such as disgust. But activity spiked in the circuits involved in reward, a response similar to what addicts experience when they get a fix, Westen explained.
The study points to a total lack of reason in political decision-making.
"None of the circuits involved in conscious reasoning were particularly engaged," Westen said. "Essentially, it appears as if partisans twirl the cognitive kaleidoscope until they get the conclusions they want, and then they get massively reinforced for it, with the elimination of negative emotional states and activation of positive ones."
Notably absent were any increases in activation of the dorsolateral prefrontal cortex, the part of the brain most associated with reasoning.
The tests involved pairs of statements by the candidates, President George W. Bush and Senator John Kerry, that clearly contradicted each other. The test subjects were asked to consider and rate the discrepancy. Then they were presented with another statement that might explain away the contradiction. The scenario was repeated several times for each candidate.
Functional brain imaging helps scientists understand the relationship between particular types of mental activity and particular areas of the brain, by charting which regions experience increased blood flow or metabolism or electromagnetic activity over time. It's a step beyond CT scans, or CAT scans, which can map the brain's structure but not its functions. Click on the labels above to learn more about three technologies used for functional brain imaging.
A brain-scan technique known as functional magnetic resonance imaging, or fMRI, revealed a consistent pattern. Both Republicans and Democrats consistently denied obvious contradictions for their own candidate but detected contradictions in the opposing candidate.
"The result is that partisan beliefs are calcified, and the person can learn very little from new data," Westen said.
Other relatively neutral candidates were introduced into the mix, such as the actor Tom Hanks. Importantly, both the Democrats and Republicans reacted to the contradictions of these characters in the same manner.
The findings could prove useful beyond the campaign trail.
"Everyone from executives and judges to scientists and politicians may reason to emotionally biased judgments when they have a vested interest in how to interpret 'the facts,'" Westen said.
The researchers will present the findings Saturday at the Annual Conference of the Society for Personality and Social Psychology.
Wednesday, January 25, 2006
Hattie McDaniel, movie actress, singer, radio and television personality, and the first African American towin an Academy Award today became the 29th honoree in the U.S. Postal Service's long-running Black Heritage commemorative stamp series.
The 39-cent Hattie McDaniel commemorative stamp highlights the
achievements of this legendary performer who won the Oscar for her role as
Mammy in the award-winning 1939 film Gone With the Wind. The new stamp is
available today only in Beverly Hills Post Offices and nationwide tomorrow,
January 26.
"When you are a person who is determined and hard-working, the tables can
be turned. Hattie, though the youngest child of former slaves, achieved her
greatest honor doing what she loved most -- entertaining -- for her role
impersonating a slave," said Edgar Goff, nephew of Hattie McDaniel. "Her
favorite expression was, 'Humble is the way.'"
Although McDaniel was often heavily criticized for playing maids and other
stereotypical roles, she worked behind the scenes to battle racism and
discrimination. McDaniel is remembered for saying, "I'd rather play a maid
than be one," and although she encountered racism in Hollywood, she and
several other black actors worked to change the film industry from within
during the 1940's.
"The United States Postal Service is proud to salute the life and
extraordinary legacy of Hattie McDaniel," said James C. Miller, Chairman of
the U.S. Postal Service's Board of Governors, who dedicated the stamp. "This
stamp is a powerful reminder of her unprecedented contribution to Hollywood
and to her pioneering legacy to help make this country a better place."
The ceremony took place at the Margaret Herrick Library of the Academy of
Motion Picture Arts and Sciences, where the Hattie McDaniel collection
includes photographs of Hattie and other family members, as well as scripts
and other documents. The collection also contains a large number of recordings
from the radio program, "Beulah."
Joining Chairman Miller from the Postal Service was Delores Killette, Vice
President, Consumer Advocate. Also participating in the ceremony were Academy
President Sid Ganis; Edgar Goff, nephew of Hattie McDaniel; Kim Goff-Crews, a
grandniece of McDaniel and Dean of Students, Wellesley College; Dr. Mynora J.
Bryant, International Grand Basileus, Sigma Gamma Rho, Inc. of which McDaniel
was an honorary member; Ann-Marie Johnson, National First Vice President,
Screen Actors Guild; Johnny Grant, Hollywood's Honorary Mayor; Linda Hopkins,
Jazz and Blues legend; and Vonzell Solomon, performer, 2005 "American Idol"
finalist and former postal carrier.
"We at the Academy are proud to see a portrait of Academy Award winner
Hattie McDaniel, the first African American to win an Oscar, gracing a U.S.
postage stamp," said Academy President Sid Ganis. "We hope this newest
recognition will remind Americans everywhere of the great stride forward made
by this unassuming pioneer."
Among the honored guests were cast members from Gone with the Wind
including Ann Rutherford, Patrick Curtis, Mickey Kuhn, and Cammie King Conlon;
Wonderful Smith, McDaniel's friend and Chauffeur; Karl Malden, Member
Emeritus, Citizens Stamp Advisory Committee (CSAC) and past president of the
Academy; Jean Picker Firstenberg, Member, CSAC, and CEO, American Film
Institute; Al Iniguez, Pacific Area Vice President, U.S. Postal Service; Bill
Almaraz, Los Angeles District Manager, U.S. Postal Service; Koula Fuller,
Beverly Hills Postmaster; and members of Sigma Gamma Rho Sorority, Inc.
McDaniel joins 28 other honorees in the Postal Service's Black Heritage
commemorative stamp series which salutes outstanding African-American
activists, theorists, writers, educators and leaders. Other notable Americans
in the series include: the first African-American woman to be honored on a
U.S. stamp and the first honoree in the Black Heritage series, abolitionist
Harriet Tubman; Civil Rights leader Martin Luther King, Jr.; prominent
historian and son of a former slave, Dr. Carter G. Woodson; writer and
composer Scott Joplin; Supreme Court Justice Thurgood Marshall; and
classically trained performance artist Marian Anderson.
McDaniel was born June 10, 1895, in Wichita, Kan., and raised in Denver,
Colo. Showing signs of her talent at an early age, she dropped out of school
as a teenager to tour with vaudeville companies and traveled with musical
ensembles and minstrel shows, including one run by her father. She sang on
Denver radio as early as 1925, and she wrote and recorded several of her own
songs.
McDaniel arrived in Hollywood in 1931 and soon began to appear in films.
She is credited with appearing in more than 90 films, but is believed to have
appeared in as many as 300, including uncredited roles as extras, maids, and
chorus singers. She sang a duet with Will Rogers in Judge Priest (1934), a
film directed by John Ford, and she often appeared alongside many of the
brightest stars of the era, such as Clark Gable and Jean Harlow in Saratoga
(1937) and Katharine Hepburn in Alice Adams (1935), which featured a comic
performance by McDaniel. Some of her other notable films included Show Boat
(1936), In This Our Life (1942), which was praised for the depth and humanity
of its black characters, and Since You Went Away (1944).
From 1947 until 1952, McDaniel played the title role in The Beulah Show,
which was broadcast on national radio. As the first radio show to feature a
black star, The Beulah Show was praised by the NAACP and the National Urban
League. Although McDaniel again played a maid, she insisted that her character
not speak in dialect, and she successfully negotiated the right to alter
scripts that did not meet her approval. Shortly before her death, McDaniel was
preparing to replace an actress in the television version of the The Beulah
Show. McDaniel died of breast cancer at the age of 57 on October 26, 1952.
The stamp was designed by Ethel Kessler of Bethesda, MD and features a
1941 photograph of McDaniel by Tim O'Brien of Brooklyn, NY in the dress she
wore on February 29, 1940, when she won the Academy Award for Best Supporting
Actress.
The Postal Service continues its commitment to honor the historical
achievements and contributions of African Americans. Through the popular Black
Heritage stamp series these significant and educational contributions will
continue to be recognized in the future. To see the Hattie McDaniel
commemorative stamp and other images from the 2006 Commemorative Stamp
Program, visit the Postal Store at http://www.usps.com/shop and click on
"Release Schedule" in the Collector's Corner.
Tuesday, January 24, 2006
European discovery and exploration of the San Francisco Bay Area and its islands began in 1542 and culminated with the mapping of the bay in 1775. Early visitors to the Bay Area were preceded 10,000 to 20,000 years earlier, however, by the native people indigenous to the area. Prior to the coming of the Spanish and Portuguese explorers, over 10,000 indigenous people, later to be called the Oholone (a Miwok Indian word meaning "western people"), lived in the coastal area between Point Sur and the San Francisco Bay.
... the coastal area stretching from San Francisco to Monterey Bay was home to forty or so culturally diverse native tribes now known collectively as the Ohlone. Theirs was a mobile society of hunter-gatherers in a region where abundant waterfowl, shellfish, game, native plants, and fish provided sustenance for thriving villages. For the Ohlone and neighboring Bay Area peoples, the founding of San Francisco's Mission Dolores in 1776 hastened the end of traditional, pre-European ways. --The Ohlone People
*
At the pre-emptory request of a large majority of the citizens of these United States, I Joshua Norton, formerly of Algoa Bay, Cape of Good Hope, and now for the last nine years and ten months past of San Fransisco, California, declare and proclaim myself the Emperor of These United States. - September 17, 1859
Monday, January 23, 2006
"Here is a golden Rule.... Write legibly. The average temper of the human race would be perceptibly sweetened, if everybody obeyed this Rule!"
British author, mathematician, clergyman.
"Eight or Nine Wise Words About Letter-Writing" in The Letters of Lewis Carroll, vol. II, ed. Morton N. Cohen,
Ox832ford University Press (1979)
Sunday, January 22, 2006
Saturday, January 21, 2006
"She walks in beauty, like the night
Of cloudless climes and starry skies;
And all that's best of dark and bright
Meet in her aspect and her eyes" -Lord Byron
*
"There is no remedy for love but to love more." -Henry D. Thoreau
"The love of beauty in its multiple forms is the noblest gift of the human cerebrum." Alexis Carrel
*
"To love is nothing. To be loved is something. To love and be loved is everything." -From "Meaningful Quotes Archive"
*
"When you are in love, life should not be measured by the moments of breath, but by the breath-taking moments." -From "Meaningful Quotes Archive"
*
"This - this was what made life: a moment of quiet, the water falling in the fountain, the girl's voice...a moment of captured beauty. He who is truly wise will never permit such moments to escape." -Roger Bannister
*
"If I never met you, I would have dreamt you into being" -Sebastian Chantoix *
"A beautiful, sensual and intelligent woman initiates with the same YONI the man was born from, in an anterior life. Such a woman initiates with the same breasts that she gave milk to her man in an anterior life. Such woman initiates with the same mouth that she once calmed down her man with. The woman who is conscious of her beauty, who is full of sensuality and intelligence, she is the supreme initiator in Tantra." -Kaulashasya
*
"If thou must love me, let it be for nought
Except for love's sake only. Do not say
'I love her for her smile--her look--her way
Of speaking gently,--for a trick of thought
That falls in well with mine, and certes brought
A sense of pleasant ease on such a day'--
For these things in themselves, Beloved, may
Be changed, or change for thee,--and love, so wrought,
May be unwrought so. Neither love me for
Thine own dear pity's wiping my cheeks dry,--
A creature might forget to weep, who bore
Thy comfort long, and lose thy love thereby !
But love me for love's sake, that evermore
Thou mayst love on, through love's eternity."
-Elizabeth Barrett Browning, Sonnets from the Portuguese, XIV * "Somewhere i have never travelled,gladly beyond any experience,your eyes have their silence: in your most frail gesture are things which enclose me, or which i cannot touch because they are too near." -E. E. Cummings
This is my picture for Illustration Friday. The theme is Cats. "Cats" was drawn on the back of a page from an old Get Fuzzy desk calendar. I drew the initial picture in about twenty minutes. Then I spent the next six hours using Photoshop to color it and fill in the empty spaces with more cats. I didn't mean to spend so much time on this today. I was a little over ambitious. I'm also not as happy with the results as I would like to be. Oh well. You want cats you get cats! Enjoy!
http://illustrationfriday.com/dev/index.php?section=welcome
Friday, January 20, 2006
The Vedas are the oldest books in the library of man.
The truths contained in all religions are derived from the Vedas and are ultimately traceable to the Vedas.
The Vedas are the fountain-head of religion.
The Vedas are the ultimate source to which all religious knowledge can be traced.
Religion is of divine origin.
It was revealed by God to man in the earliest times.
It is embodied in the Vedas. *
The Vedas represent the spiritual experiences of the Rishis of yore. The Rishi is only a medium or an agent to transmit to people the intuitional experiences which he received. The truths of the Vedas are revelations. All the other religions of the world claim their authority as being delivered by special messengers of God to certain persons, but the Vedas do not owe their authority to any one. They are themselves the authority as they are eternal, as they are the Knowledge of the Lord.
Thursday, January 19, 2006
MAYBE we're a little old-fashioned, but even in an age when technology and the Internet rule, we believe any respectable school still needs a functioning library complete with nonvirtual, hardcover books.
Unfortunately, as reporter Alex Katz's recent story explained, Castlemont High School has been without such a library for two years — ever since it was split into three smaller, specialized schools and renamed Castlemont Community of Small Schools.
By breaking Castlemont into Leadership Preparatory High, the East Oakland School of the Arts and the Business and Information Technology School, officials intended to increase attendance and improve teacher-student interaction. That is a commendable goal and we hope an achievable one.
The price of that transformation, however, appears to have been a viable library, which school officials say they couldn't continue to afford and are now working to restore.
Castlemont does have several non-classified shelves of books inside a room that until a few weeks ago had also served as storage space, but students say they've been unable to check out books when they manage to find them. And instead of a librarian, the school just has a library clerk.
Castlemont's principal has indicated that much of the students' research is done online anyway and notes that the school has hundreds of computers. He certainly is correct about that — these days almost all students, including those in elementary schools, use computers to do some of their homework, assignments and research.
But computers aren't a substitute for books, and as Skyline High librarian Mary Walfoort noted, students need someone to help them do online research. "There's so much information out there, but so much of it is untrustworthy," she said. "With so much junk out there on the Internet ... it's more important than ever to have a librarian."
With a student database system converted for Castlemont last week, school officials say that by the end of this month it will allow the library to check out and inventory books again.
We hope that does indeed happen. Cyberspace has its advantages, but the time hasn't come for it to supplant the Dewey Decimal System.
Wednesday, January 18, 2006
This essay is a sequel to "A Philosophy of Photography and Some Visual Art In General", and it presupposes some of the ideas explained there. If you are looking for introductory instruction in photography in general (not instruction in erotic photography), please visit An Introduction to Photography.
I have been fascinated with the question of what makes a painting or photograph seem erotic. For contrary to what many people claim about men, it is not simply the sight of a naked female, even an attractive naked female, that is particularly arousing. If it were, hospital corridors and wards would be very erotic places. They are not. And women seem not to be aroused in general just by the sight of a naked male. Moreover, as many (poor) pornographic works show, generally just capturing images of people in various sex acts or positions is not to create works that are either artistic or erotic. So the question is what it is about certain kinds of erotic art that makes it good both as art and as something erotic; what are the elements of eroticism in erotic art, particularly good erotic art.
There seem to me to be at least three different kinds of erotic visual (pictorial) art, reflecting three different intentions or purposes: to cause sexual arousal; to portray or capture some element or aspect of sexuality or sensuousness; or to express or communicate something in pictorial form about sexuality or sensuousness, often some insight the artist has about it. Of course, one work may incorporate all three of these features; a picture may be arousing, may capture some essential aspect of sex, and may make some sort of statement about sex. In fact a picture may be arousing because it captures some exciting aspect about sex or sensuality. (This might be some sort of seductiveness as in a seductive look, but it does not have to be; simply portraying well some kind of joyful or desirable sort of sexual or sensual experience apart from seduction may be quite stimulating.) I want to give some ideas here about what I think makes erotic visual (pictorial) art good or bad and I want to describe what I think makes for arousing erotic art, since there is a large market of items that seem to be intended to promote sexual arousal, but which seem to me to fail.
First, however, erotic art meant to be arousing can be good in that way without always being successful-- people's moods and interests are different at different times, so for even the same person, the same erotic art may not always be interesting or arousing. And different people have different interests and are stimulated by different things. One man may find a certain woman very attractive and arousing, but another may think she looks too much like his sister to be arousing to him. Yet it can be good in that usually it is successful, or that under normal conditions it is successful.
And second, from the number of erotic works which seem intended (primarily or only) to be arousing, but which are not arousing, to me and to many others, and which in some cases are even distinctly revolting, it would appear (assuming this erotic art is appealing and arousing to someone, even if just the producer of it) that what is sexually exciting might be in the mind of the beholder. Therefore this is an exercise, not to describe what would be visually exciting to everyone, but to describe the elements that I think (or that for me) make up a sexually exciting visual work (photograph or movie). I am here trying to see whether I can accurately discover and describe what I think my intuitions are about what makes erotic visual art arousing (for me) and about what I think is good visual erotic art in other ways as well.
There are some areas I can immediately eliminate -- those which portray degradation, humiliation, or treatment of people as merely objects with no consideration for their feelings, and those which portray any sort of pain, brutality, or violence in some manner that tries to extoll or equate it, or tries to associate it in some positive manner, with sexuality. This is true, however, not only for sex but for any kind of entertainment or treatment of people in this way, whether it is sexually related or not. A more difficult element to try to characterize as, I think a failure, is that of decidely "one-sided" attempted erotic art. What I mean by this is a series of pictures whereby one partner seems merely to be the recipient of physical pleasure at the expense, effort, or use of the other - where one seems to be primarily a taker and the other a giver who never receives what would seem to be pleasurable treatment. This is difficult to characterize because in any single given picture, or series of a few pictures, one partner may be "pleasuring" another at the moment. And this is perfectly fine as long as there is not some reason to believe the pleasure is only one-sided, and that the giver in one set of pictures might not ever be the receiver of pleasure if the photos were somehow extended or more complete.
Now some feminists regard all erotic art, by its very nature, as degrading women; but I doubt this is a fair assessment, since (1) some women themselves who have a good self- image enjoy looking at and/or posing for some erotic images, and (2) some men who respect and think very highly of women like to look at some erotic art without therefore thinking any less of the women who pose for it or of women in general. (3) If sex and sensuality are something both men and women can find wonderful and/or can enjoy equally, then I see no reason why art which deals with it should by its nature be one-sided or degrading to one sex. It would seem instead that only erotic art which portrays some degrading aspect of sex would possibly be degrading; and unless there is no sex which is mutually good for both sexes, I would think some artistic ideas about sex should be something other than degrading to women. I would think that if erotic art were by its nature degrading, all of it would have to actually make at least most of the people who enjoy it think less of the women it portrays. But it does not.
Some artists even seem to consider some of their work as an effort to elevate in the mind the sensuousness of women, or at least as an effort to capture or portray the sensuousness of a particular woman or women in general. And they do this for the same kinds of artistic or communicative (or whatever) reasons that one might try to capture, point out, or express any human quality, emotion, or insight. I would think that pictures which try to capture and express the joy, beauty, passion, and/or thrill of good sex are not pictures which, at least in any intentional way are meant to degrade. And I think pictures which succeed in that effort will thereby not be degrading. (By good sex I mean at least sex which is pleasurable, comforting, elevating, sharing, enjoyable, supportive, and/or reassuring to each, not sex which is risky, anxiety laden, frightening, guilt ridden, one-sided, degrading, humiliating, brutal, painful, violent etc. I assume there is such a thing as sex that is good--and I don't just mean sex that feels good--I mean sex that is right, sex that is good for the partners involved on whatever level one might want to analyze.)
So I think one element that can contribute to erotic art's being good is its capturing or portraying some of the things that might make sex good, such as the joy and/or pleasure it can cause, such as the excitement and the calm it can bring, such as its sometimes gentleness, such as its allowing a communion or sharing of spirits or feelings or moods, such as its ability to allow the simultaneous giving and receiving of pleasure, and any of the vast variety of things there are that make sex sometimes a wonderful experience. Since many of these things are themselves felt experiences or felt impressions, and not visible characteristics, capturing or portraying them visually can be quite an artistic or intellectual accomplishment. And, except for cases of extreme artistic luck, it requires some sensitive awareness to their occurrence in the first place.
Visual erotic art is often bad because it either does not capture any of the better essences of good or interesting sex or it does not portray them well visually (due to either technical or artistic reasons--i.e., bad lighting, bad composition, bad cropping, bad exposure, etc.), or it overrides good portrayal of these elements by featuring other elements that spoil or ruin the overall effect, such as pain, violence, humiliation, apparent one-sided "use" of one of the participants, terrible consequences for the relationship, or whatever.
This does not mean erotic art has to be realistic or to portray good elements of actual or real sex in order to be good. For I believe there is such a thing as good fantasy sex that is fun to think about but which one is perfectly aware would not be fun or good or even desirable actually to do. Lots of sex might be fun to contemplate that you know would not be fun to consummate. One might have a fantasy sex object about whom one likes to daydream or fantasize but with whom one would not actually care to have sex. In fact one might quite well know it would actually be an awful real life experience because of the intrusion of characteristics one might easily and happily keep out of one's fantasies. For example, in fantasy sex, one need never experience any sort of personal relationship difficulties-- one never has to feel guilt for taking advantage of someone and never has to fear being taken advantage of by someone; one's motives never are suspect and one's behavior never is insufficient or dissatisfying; one need not buy presents, remember birthdays, be gratuitously kind, sacrificially charitable, or even unselfish. Fantasy sex never needs to be uncomfortable, imperfect, or unsatisfying. Fantasy sex does not cause embarrassment in speech nor in deed. There are no stupid, ignorant, awkward, dissatisfying, improvident, uncomfortable, unconscionable, or ruinous things said or done that have to be explained, regretted, repented, recanted, forgiven, or forgotten. Sex in fantasy can always mutually suit your mood and your fantastic partner's mood. Fantasies, in short, are safe.
Since people's fantasies probably vary even more than their desires, erotic art attempting to capture or portray erotic fantasy sex is probably even more a matter of taste. But again, with me, these have to be void of brutality, mayhem, gore, degradation, "use", and the like. My fantasies are like my actual tastes in this regard. In fact, I think my fantasies are only unlike my actual sex in a few ways. I fantasize about partners I would not, in many cases, want to have an actual relationship with--and since I am not particularly interested in one-night stands nor sex without a fuller relationship, I thus fantasize about partners with whom I know I would not really want to become involved in reality or with whom in reality it would be bad to try to have a full relationship, for whatever reason. In my fantasies my partner(s) and I always excitedly and happily instinctively gratify each others' every possible wish, and discover previously unimagined things that tantalize and gratify each other; verbal requests and direction are not required. It is always satisfactory and comfortable; no position is uncomfortable or impossible; nobody's arm ever goes to sleep, no one is ever too heavy for anyone to support in other than perfect comfort. Our moods, desires, and feelings always coincide--so that when one wants tenderness the other does too; when one wants to be teased, the other is in the mood to tease playfully; when one wants witty conversation, the other is conversely conversantly witty; when one wants to be more passive, the other wants to act more actively; the same things seem funny, or especially momentous, or especially meaningful to both at the same time.
"Leaving Something to the Imagination"
People are fond of saying good and/or arousing (visual) erotic art must "leave something to the imagination." Sometimes it does but I do not think it needs to. Good erotic art must perhaps
stimulate the imagination
. And though teasingly or suggestively hiding some anatomy or activity may stimulate the imagination, that is not the only way to do so. An interesting activity, joyous body language or facial expression, interesting depiction of a viewer's own fantasy (perhaps with an interesting addition or modification), or any of a number of things portrayed, captured, or suggested by an erotic work of art might stimulate a viewer's imagination, even if it is not the nudity by itself or the physiology of the activity by itself that is what is stimulating. I think good visual erotic art does not need to leave anything to the imagination--at least not in terms of hiding anatomical parts or physical acts--because I think
how
something is portrayed is more important than
what
is portrayed; and if "everything" is portrayed well, then nothing needs to be unrevealed. The usual problem with nudity or blatant sexual activity which turns out
not
to be erotic is that it is portrayed in a way that is not interesting. A nude person with little expression or body language, interesting lighting or some other aesthetic element to make the picture visually appealing, is just a naked body. Portraying people, from no artistically interesting angle or perspective, merely physiologically having sex, with no subtle or dramatic lighting, and with no apparent, or honest hint of joy or pleasure in their body language and/or their facial expressions, usually will not be much different from portraying animals copulating. And it will not usually stimulate the imagination of an even somewhat knowledgeable viewer, unless he or she is simply motivated to think how much better the portrayal might have been and is then stimulated by his or her own ideas of how that might have been accomplished.
Of course, one may not want to show pimples, pores, perspiration, or other supposed "imperfections" when photographing a subject, but that is not what is usually meant when it is claimed "something should be left to the imagination." What is meant is that sexual acts and sexual anatomy should not be totally depicted. But I think there are sufficient good, yet explicit nudes, and sexually intimate pictures to disconfirm that claim. Such pictures need to be done very well though to be good. Just anatomy or anatomic rendering (or "copying" someone's body) is not art. Even eyes, which are often features that are beautiful to look at, have a way of being portrayed in anatomy books which make them repulsive or painful to look at. Erotic art that is more like anatomy texts in this way, make sexual features equally unattractive and unappealing to view.
I think the claim arises because it is very difficult to pleasingly photograph the human body, whether clothed or not, and the more of one's body one tries to photograph, the more difficult the lighting and composition required to do it well. Unclothed makes it even more difficult because clothes can often create interesting color combinations and contrasts (in painting and color photography) and interesting compositional shapes. And often clothes can allow play with lighting that adds beauty or interest to a picture--shiny silks or nylon materials in particular give all kinds of interesting tones and patterns of light much of the time. Skin does not always do that, certainly not without some artistic skill and lighting knowledge or sensitivity. Much bad visual erotic art is not only totally revealing, but is, more importantly, badly lighted (i.e., bad lighting angles, misplaced highlights and/or shadows or their lack, bad tones, etc.) and poorly composed (unpleasant lines, angles, and/or proportions from a design standpoint, apart from any sexual tastes). Hence, it is not surprising people might mistakenly confuse revulsion with revelation. Good visual erotic art is an art, and the proportion of good erotic art to all erotic art is probably not vastly different from the proportion of good art to all art, or of good commercial art to all commercial art. The fact that bad erotic art is often also revealing is either accidental, or is related to the fact that the more body one photographs (no matter how clothed or not), the more artistry is required to do it well. And that artistry is often lacking in erotic art as elsewhere. (Part of the reason it is difficult artistically to photograph more body than it is less, is that the human body is very long proportional to its width, so unless you do something to bend the legs and arms, you end up with something not unlike a long skinny stick in your picture, with a head and face so small a part of it that it is difficult to distinguish expressions, make eye "contact", etc.)
So, I think one of the important elements of good visual erotic art is good visual artistry to begin with--good composition (balance, proportion, perspective, framing, etc.), good lighting (tones, contrasts, balance, etc.). And, in painting or color photography, good coloring as well.
Second it needs to express or characterize something of interest and/or it needs to capture or portray something of interest; and with the more insight, the better. The interest referred to may be to the senses (such as something that looks or physically feels very pleasurable), the intellect, the "libido", the emotions, or whatever.
Some art requires subtle handling; some, less subtle. Sometimes humor is appropriate; sometimes not. The treatment of the subject should be appropriate in these and other similar kinds of regards to the sentiment captured or the statement or insight expressed. These kinds of things are true of all visual art. Good visual erotic art must first and foremost be good visual art; it is just art that has a specific subject matter, sex or sensuousness.
Now just renderings or photographs of nude bodies are not necessarily either art or erotic. Anatomy books are not erotic; they are not sensuous. Although 12 year old boys may get aroused by topless tribal pictures in National Geographic, that is usually because they have not yet located other sources of nude pictures and because they have usually not had much opportunity to learn to appreciate the difference between personal, intentional sexuality and the excitement of seeing or doing something somehow (even remotely) related to sex that is forbidden for them (in their culture). They have not yet developed the ability to discriminate between what is (purposely) emotionally and intimately sexual and what is a mere display of skin not intended to be sexual or provocative. Not unlike some overzealous Freudians, for boys almost everything has sexual connotations. Adults tend to be a bit more discriminating, particular, or subtle--or should be, I suspect.
It seems to me that the reason nudity by itself is not necessarily sensuous is that it does not necessarily involve a sensuous or excited or sexually interested state of mind of the person who is nude. Walking through the halls of a hospital with ill patients on the other sides of open doors in various states of undress in their cold gray, antiseptic rooms is hardly an exercise in eroticism. Similarly, living in a culture where more skin is typically asexually in view than it might be in another culture is not an erotic experience for the person used to that culture. Anyone who has ever had the opportunity surreptitiously to watch someone undress soon finds that the thrill, if any, is one of avoiding discovery while doing something prohibited rather than being a sexual thrill--assuming the person undressing is just normally undressing rather than performing. Even strippers and go-go girls who perform before an audience just matter-of-factly, and with little apparent interest in what they are doing, are found to be boring and not at all sexy by most of the people in the audience. Performers with audience eye contact and who seem interested in arousing the audience and who seem to be excited themselves because of it will often be perceived as far sexier than even far better endowed or better looking performers who give the impression they are just doing their job. Non-interest in sex is such a common turn-off that one common joke now even in movies is a wife or girlfriend's finally stopping an unwanted persistent mate by finally saying something like, "O.k., you can have me; just let me know when you are done."
In contrast to this is the fact that there are very provocative comments or gestures that involve no nudity whatsoever. The right kind of desiring or knowing look or subtle gesture or inviting comment or tone of voice can be most alluring and suggestive.
Further, while in college during the mini-skirt era I had my hair cut by a seventy year old barber who said he remembered the time when you practically passed out from excitement if you got to see a girl's ankle, since almost nothing was supposed to be uncovered. In such an era, if a girl purposely let you see her ankle, that was far more sexually meaningful than would be a modern woman's letting her thigh show while wearing a bikini at the beach or a mini-skirt in an appropriate place for no sexual reason but just because it was the fashion of the day. Contexts and intentions play much more a part of eroticism than does the quantity of skin displayed. Showing skin in an uncustomary or personal way is often erotic; showing the same or even more skin in a way that is fashionable or customary generally is not. Swimwear at the beach is no big deal, and in some circumstances is even sexually unappetizing. But a bikini at a business meeting or on a blind date to a movie might be extremely arousing. A beach bikini in the 1980's is not of special note, but it probably would have justifiably aroused the libido of some people and the ire of others in 1910. Even nude beaches or nudist camps lose their eroticism once the novelty wears off and once you realize that people, just by being nude, are not thereby necessarily insinuating they are interested in sex, in sex at the time, or in sex with you. In such contexts a display of skin is not the meaningful invitation or sign of sexual arousal or interest that it might be in other contexts. The meaning of a gesture or clothing, and the state of mind behind it, is often more important to its eroticism than is how much skin it displays.
What you wear, how you move, what you do, what you say, how you say it, the expressions you make, etc. all have erotic possibilities, by being sensuous and/or by being invitational. If a woman's normal closing of an umbrella in front of a man in society served as an invitation to "come up and see me sometime," then even such an otherwise hardly erotic action could be very stimulating.
I believe that many of the erotic magazines on the market today are not as erotic as they might be, if at all, because most of the subjects look bored, tired, uninterested, spiritless, nervous, or just anxious to pick up their paycheck. Some magazines even do their backgrounds or sets better than their subjects. The pictures are attractive because the scenery and lighting are attractive, not because the subject's position, angle, expression, or pose are interesting. Sometimes you can cover up the subject and the background and setting still makes a pretty picture; but if you cover up the background and setting, the subject looks ordinary, strange, or simply not particularly attractive or appealing. And even when some subjects attempt to look impassioned and aroused, or seductive, the expressions on their faces do not seem to match either their body language or the kinds of things they are doing; a girl who looks to be in a state of extremely impassioned ecstasy from stroking her own knee while standing nude on a hot, rocky beach seems more weird than sensuous or aroused. She certainly seems phony. Many porno movies show people having sex who either look bored or in pain at the time, or who are performing in a perfunctory manner, or who act very passionate and express great pleasure but while nothing is happening to them that looks like it would be very pleasurable. Ecstasy that is obviously fake is not very arousing. Esctasy that seems real and that seems to have a realistic (physical and/or emotional) cause can be very arousing to witness.
I think it can easily be demonstrated that even just a facial portrait with a come-hither look in knowing bedroom eyes can be far more sensuous, erotic, and seductive than any blatant display of body parts that instead support a bored facial expression or bored body language. It is not what shows in a picture that makes it provocative, but the way in which it is shown. If a picture is to be inviting (and not all erotic art needs to be inviting--comic erotic art, for example, need not be; nor perhaps any erotic art that wants to make a statement or display an insight about sex rather than arouse), then the body language and/or the facial expression must be inviting. The amount of skin revealed is relatively unimportant, though in a picture meant to be inviting, if all the other aspects are done well, then, assuming the revelation is also done well, it may perhaps give some extra provocation or intensity to the "invitation". It may be bit more serious proof or suggestion of how serious the model's "intentions" are (made to seem).
And if a picture is to be seductive, I think the model should look not only seductive, but discriminating in some way. The look should in some way be directed at each person looking at it, yet without appearing that it could be meant for anyone else. A look that says "first come first served" or "open house" is not nearly as exciting as one that seems to be a special invitation. And, for me, the model has to look like she has some sort of wise or intelligent awareness about what she is doing--some knowing look or sparkle in the eyes--something that elevates her above the simple level of just a dumb animal in heat. On cable television one night there was a striptease and burlesque show that featured a number of female strippers, but one male stripper as well. This was at the time that male strippers were a novelty, and this was the first male stripper I had ever seen. Even though I have no homosexual interests, I thought his act was by far the "best" in some performance sense, since he was the only one who seemed like he really enjoyed tantalizing the audience; he even had some audience participation, having some of the women in the audience help him remove some of his clothing, and he had some erotic comedy in his routine as well, sort of showing that to him the whole thing was fun and exciting, not just a job, and that he knew how to make sex or seduction fun and exciting.
Portraying Emotions and Feelings
If a picture is not necessarily meant to be seductive but is intended to capture or portray a certain experience or mood or feeling, whether in an arousing way or not, then an interesting challenge faces the photographer or artist since so much of sex is of a tactile and emotional, rather than a visual nature. The challenge, as with all visual art that tries to capture or portray moods, emotions, feelings, states of mind, is to portray something that is basically nonvisual with, or in, a strictly visual medium. In fact, I think that being able to do this (whether in poetry, prose, visual arts or whatever) is one of the characteristics that can make (some) art in fact be art at all, or, in some cases where it is done well, and perhaps particularly, subtly and creatively, be good art.
Portraying the essential flavor of something successfully in a mode that is not where that essence (normally) lies or can be experienced is a distinct achievement. And it seems to me to be a worthwhile endeavor for a number of reasons: artists can help people share, and realize they share, certain common (wonderful) emotions and experiences. Such sharing can be a good experience in itself. Artists can demonstrate that a certain experience is perhaps a possible and worthy goal to someone who may never have sought it or even thought about it before; in this way art may create new possibilities for someone. Some of these may be of great benefit and value. Capturing an experience in an eduring art medium helps keep that experience alive in memory, and helps us revive or relive the pleasantness and wonder of the experience each time the work of art jogs and brings alive our memory.
Further, there is something magnificent and wondrous about creating or even coming across a work of art that captures the essence of an experience of great personal significance. And I am not sure whether this is related to sharing the joy of such experiences or not; intuition says it is something different from that, something involving the joy of expression or depiction of something important to a person. Finding or creating a well-done erotic movie or photograph or story that captures the way you feel about sex or love or a romantic and passionate time together is, I suspect, like finding or creating a well-wrought poem or quotation that perfectly spells out how you feel about anything. It is like a litte treasure that portrays or depicts exactly how you feel about something that is important to you and that may be important for you to be able to express. This is particularly true if you have wanted to express your feelings about this but have been unable to find the right words or the right ideas to do it.
And finally, creation of any good art is a worthwhile endeavor for the artist. There is a satisfaction or joy, not only in having made something that is good, something that was fabricated essentially from nothing, or from an idea alone, but there is a joy and satisfaction in being totally involved and lost in the concentration of the creating process itself, even before you know what the result exactly will be, even before you know whether it will be good or not, and even before you know whether it will be like you want it to be or not.
Non-artistic Value of Erotic Art (and Even Pornography)
Finally, I would like to comment about the non-artistic
value
of erotic art, even that which does not primarily give a message or capture something admirable or otherwise important of the human spirit or condition, but which primarily or only succeeds in causing sexual arousal, and is intentionally that way -- pornographic art. Apart from all the bad things pornography may do or cause, there are some good things it does that I never see stated anywhere in discussions of pornography. Some people would never learn much about sex at all, except from trial and error (if they learn from their errors) if it were not for pornography. Of course then, the better the pornography, or pornographic art, they learn from, the better things they learn, and conversely, the worse the pornography either as art or as sexual interaction, the worse the value of what is taught. Cold, clinical, scientific sex education is often not as inspiring or as educationally meaningful as artistic presentations of sexual material.
Also, pornographic art, and even pornography, can get you out of a bored, lethargic state sometimes; sexual arousal is at least one sort of passion that gets the spirits moving, even in areas unrelated to sex, and this is sometimes preferable to dispirited dejection or to having no energy at all for anything. Arousing pornographic art can sometimes stir you out of a languorous or indolent state even if the sexual excitement is temporary and even if it, as it sometimes does, simply leads you to excitement and industriousness in good areas totally unrelated to sex. I have found pornography to be just such an effective impetus to "higher" level motivation when nothing else as readily available seemed to work. I have become better motivated to worthwhile nonsexual activity even by watching totally boring, terribly done pornographic movies. I get so incensed at their stupidity and waste and at myself for having wasted time finding them and beginning to watch them that I then have the previously missing drive to do something of worth, if for no other reason than to try to redeem the lost and wasted time.
Erotic art also can serve as a harmless release for sexual desire. If one can satisfy one's urges for sex or sexual arousal through erotic art produced by someone very happy to pose for it rather than through having to seduce or take advantage of someone that one is really not otherwise interested in, is that not a better method! I would think a case could be made that erotic art could cut down the amount of psychologically damaging sex of a number of sorts by serving as a less harmful surrogate or outlet. Surely people become horny for no reason at all and at times that are inconvenient and unwanted. Is it not better for them to be able to get over that state through erotic art rather than through seduction or meaningless and potentially harmful casual sex. Even repulsive pornography can serve this function, since it often effectively eradicates an unwanted state of horniness in its own way; it is difficult to feel arousal and repugnance at the same time. Of course, it might be better if there were more constructive ways to do this than pornography or even erotic art (for example, sometimes horniness is confused for loneliness and a good telephone conversation with a friend will relieve both), but constructive ways are not always available.
When you open a book,
you open my life
or at least my breath
which seems to be lifting
my lungs up and back
in their timeless sea rhythm,
and I must be reacting
more obviously, breathing
a little too hard. Maybe
the sound of my breath
is catching yours or maybe
it's my chest moving more
apparently,
but I can't get the feeling
under control because
your voice is shaping words
in quiet rumbles with soft
precise authority
such that each syllable
vibrates your baritone
a little, and I almost feel
the mattress shake ever
so slightly, but it could
be that I just trembled
and a tiny quiver escaped
at the way your lips move,
open then shut and how
you hold the book
in your hands.
In any case you noticed
because you laugh gently
and skim the pages on me,
flicking them over my tummy
in a shuffle, covering me
with poetry and then
with you and a smiling
question
Oh you like being read
to, do you?
It's like striking a match,
and we press the words
between us like flowers
Passions unleashed.
Painting tongues,
glide ...
Across sultry skin.
Tingles colliding, with
meshing souls, sinful
treats.
Pulling that chain,
gripped nice ...
tight. Not getting
loose. My Love,
this is gonna last,
all night.
Wet licks, languishly
laughing, at the liquors
bite ...
Cherry picked
long ago. Now honey
it's all pleasures,
pain ...
Smacks of sultry
intent. Lil cherry
welts,
rapidly reappearing.
Wetting
your appetite for
more. Whipped,
ass ... welcomed.
Rivers rushing, collecting
calmness ...
After the long
lusty
moans, of mini spastic,
spasms eruption ...
Tuesday, January 17, 2006
Written for Baby Legget, at Bally, Calcutta, Christmas 1898.
...
There is another game of hide-and-seek that the Great Mother plays. This is more like a fairy story. She hides sometimes in other people. She hides in anything. Any day you might see Her eyes, just looking into mother's, or playing with a kitten, or picking up a bird that had fallen from its nest. Under all these forms you may find
God playing at hide-and-seek!
When there is something to do for someone--Kali is calling us to play. We love that play. She Herself said once (She was hiding in someone, and He said it for Her).."Inasmuch as ye did it unto one of the least of these, My little ones, ye did it unto Me." Is not that like a fairy story! And what funny places She, the Great Mother, can hide in! Another time She said " Lift the stone, and thou shalt find Me. Cleave the wood, and there am I!" Did you ever lift a stone or break a piece of wood to see what was inside? Did you ever think that was God--at the heart of things? How beautifully Kali plays!
You might find Her anywhere!
By Michael Atkin
HYSTERICAL laughter triggered by watching Ben Stiller catch his genitals in the fly of his pants or otherwise in pain is good for the heart, according to a new medical study.
Researchers from the University of Maryland have concluded that watching a comedy can increase blood flow as much as aerobic exercise or regularly taking heart medication.
On the flipside, the mental anguish caused by watching a drama significantly decreases blood flow.
Published in the cardiology journal Heart, the study required 20 people to watch short segments of the quirky comedy There's Something About Mary, starring Stiller, and the graphic war drama Saving Private Ryan while researchers recorded their blood flow.
Phil Harris, head of cardiology at Sydney's Royal Prince Alfred Hospital, said: "It gives us some insight into how the emotions affect the heart and the blood circulation that feeds it."
While the study will be welcomed by couch potatoes, it should not be seen as a healthy alternative to exercise.
Advertisement:
"It should not mean people stop taking their medication and think that watching a funny flick is as good for them as a walk around the block," Professor Harris said.
Kinda like a cloud I was up way up in the sky and I was feeling some feelings
You wouldn't believe sometimes I don't believe them myself and I decided I was
Never coming down. just then a tiny little dot caught my eye it was just about
Too small to see. but I watched it way too long and that dot was pulling me
Down.
I was up above it.
I was up above it.
Now I'm down in it
I was up above it.
I was up above it.
Now I'm down in it
Well shut up so what what does it matter now. I was swimming in the haze now i
Crawl on the ground. and everything I never liked about you is kind of seeping
Into me. try to laugh about it now but isn't it funny how everything works
Out ('i guess the jokes on me.' she said)
I was up above it.
I was up above it.
Now I'm down in it
I was up above it.
I was up above it.
Now I'm down in it
I used to be so big and strong.
I used to know my right from wrong.
I used to never be afraid.
I used to be somebody
I used to have something inside
Now just this hole that's open wide.
I used to want it all
I used to be somebody
I'll cross my heart and hope to die but the needle's already in my eye. and
All the world's weight is on my back and I don't even know why. and what i
Used to think was me is just a fading memory
I looked him right in the eye and said 'goodbye.'
I was up above it.
I was up above it.
Now I'm down in it
I was up above it.
I was up above it.
Now I'm down in it
Monday, January 16, 2006
Sunday, January 15, 2006
A fond kiss, and then we sever;
A farewell, and then forever!
Deep in heart-wrung tears I'll pledge thee,
Warring sighs and groans I'll wage thee.
Who shall say that Fortune grieves him,
While the star of hope she leaves him?
Me, nae cheerfu' twinkle lights me;
Dark despair around benights me.
I'll ne'er blame my partial fancy,
Nothing could resist my Nancy;
But to see her was to love her;
Love but her, and love forever.
Had we never lov'd say kindly,
Had we never lov'd say blindly,
Never met--or never parted--
We had ne'er been broken-hearted.
Fare thee well, thou first and fairest!
Fare thee well, thou best and dearest!
Thine be like a joy and treasure,
Peace. enjoyment, love, and pleasure!
A fond kiss, and then we sever;
A farewell, alas, forever!
Deep in heart-wrung tears I'll pledge thee,
Warring sighs and groans I'll wage thee!
Saturday, January 14, 2006
...
To her David's traits - his intelligence, empathy and impatience - make him an "indigo" child.
"He told me when he was 6 months old that he was going to have trouble in school because they wouldn't know where to fit him," she said, adding that he told her this through his energy, not in words. "Our consciousness is changing, it's expanding, and the indigos are here to show us the way," Ms. Badillo said. "We were much more connected with the creator before, and we're trying to get back to that connection."
If you have not been in an alternative bookstore lately, it is possible that you have missed the news about indigo children. They represent "perhaps the most exciting, albeit odd, change in basic human nature that has ever been observed and documented," Lee Carroll and Jan Tober write in "The Indigo Children: The New Kids Have Arrived" (Hay House). The book has sold 250,000 copies since 1999 and has spawned a cottage industry of books about indigo children.
Hay House said it has sold 500,000 books on indigo children. A documentary, "Indigo Evolution," is scheduled to open on about 200 screens - at churches, yoga centers, college campuses and other places - on Jan. 27 (locations at www.spiritualcinemanetwork.com).
Indigo children were first described in the 1970's by a San Diego parapsychologist, Nancy Ann Tappe, who noticed the emergence of children with an indigo aura, a vibrational color she had never seen before. This color, she reasoned, coincided with a new consciousness.
...
Friday, January 13, 2006
The fat cat on the mat
may seem to dream
of nice mice that suffice
for him, or cream;
but he free, maybe,
walks in thought
unbowed, proud, where loud
roared and fought
his kin, lean and slim,
or deep in den
in the East feasted on beasts
and tender men.
The giant lion with iron
claw in paw,
and huge ruthless tooth
in gory jaw;
the pard dark-starred,
fleet upon feet,
that oft soft from aloft
leaps upon his meat
where woods loom in gloom --
far now they be,
fierce and free,
and tamed is he;
but fat cat on the mat
kept as a pet
he does not forget.
Thursday, January 12, 2006
A prolific Beat Generation poet known for decades of leftist social activism has been selected as San Francisco's new poet laureate.
Jack Hirschman is set to accept the post at a ceremony at San Francisco City Hall tomorrow.
Shortly afterward, he plans to read poetry on the steps of the State Building in San Francisco as part of a demonstration against the death penalty.
San Francisco Mayor Gavin Newsom says he wanted an outspoken poet laureate and that Hirschman's vocal activism made him a perfect pick for the slot.
*
The Happiness
*
There's a happiness, a joy
in one soul, that's been
buried alive in everyone
and forgotten.
It isn't your barroom joke
or tender, intimate humor
or affections of friendliness
or big, bright pun.
They're the surviving survivors
of what happened when happiness
was buried alive, when
it no longer looked out
of today's eyes, and doesn't
even manifest when one
of us dies, we just walk away
from everything, alone
with what's left of us,
going on being human beings
without being human,
without that happiness.
~ Jack Hirschman ~
Wednesday, January 11, 2006
it sits outside my window now like and old woman going to market; it sits and watches me, it sweats nevously through wire and fog and dog-bark until suddenly I slam the screen with a newspaper like slapping at a fly and you could hear the scream over this plain city, and then it left. the way to end a poem like this is to become suddenly quiet.

Tuesday, January 10, 2006
One has to seek Beauty and Truth, Sir! As I always say to my pupils, you have to work to the finish. There's only one kind of painting. It is the painting that presents the eye with perfection, the kind of beautiful and impeccable enamel you find in Veronese and Titian.
-- Adolphe-William Bouguereau, 1895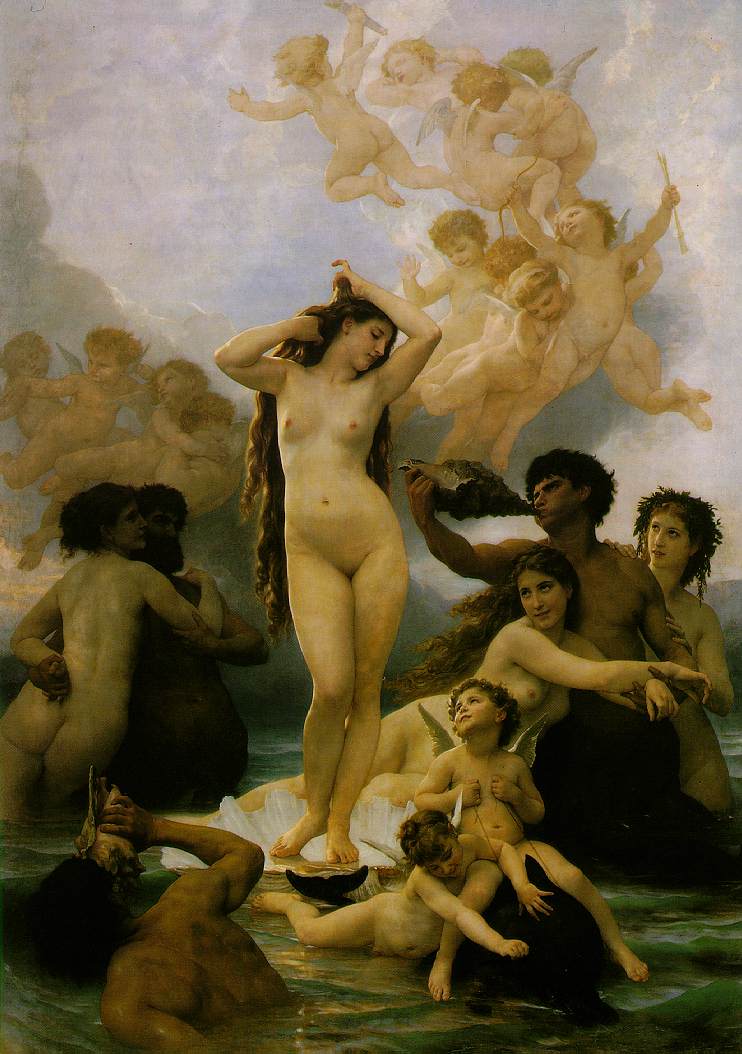 http://www.ibiblio.org/wm/paint/auth/bouguereau/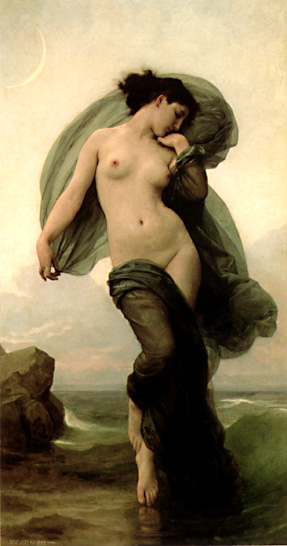 Monday, January 09, 2006
By Dalya Alberge, Arts Correspondent
A POEM by Lord Byron has been discovered in a 19th-century book within the archives of University College London.
It is the only known manuscript of the untitled poem that appeared in print four years later, in 1816. It was assumed that the original had been lost, but a librarian stumbled across it during a routine cataloguing.
Dated April 19, 1812, the poet signed his name in Greek characters. The inscription is within an 1810 edition of The Pleasures of Memory by Samuel Rogers, a patron of the arts and a minor poet. It was a gesture of friendship from Byron, who later showed his disdain for the man.
The Pleasures was well received when it was published in 1792, and it went through 15 editions before 1806. In 1793 Rogers set up a literary salon in London, where he entertained writers, artists, actors and politicians. Rogers used to present copies of his work to his friends, and inscribed this one to "The Right Hon.ble The Lord Byron, from his obliged & faithful friend The Author".
Byron wrote his own inscription: "Afterwards returned by Lord Byron to Mr Rogers with the lines written on the other side." His 12-line poem begins "Absent or present still to thee". It seems likely that Byron was directly inspired by his reading of The Pleasures of Memory.
Two acknowledged authorities on Byron have authenticated the poem. Peter Cochran, editor of The Newstead Byron Society Review, said it had been assumed that the manuscript was lost. Jerome McGann, John Stewart Bryan University Professor at the University of Virginia, said: "A discovery of this kind plunges us right into the centre of Byron's life world and its network of personal relations."
Although Byron praised the elegance of Rogers's writing, and spent time with him and Shelley in Italy, he eventually turned against him. Dr Cochran described Byron as a volatile and emotional character who had turned against most of his friends at some time.
Byron's inscription was made just after the publication of Childe Harold. He was insecure about his fame, and despised the public that had made him famous. "The intesting thing is that Rogers himself is a neglected poet these days who is only known really as a friend of Byron."
The discovery comes after another in the same library — a previously unrecorded manuscript of the 1820 Ode to Naples, in the handwriting of Claire Clairmont, the stepsister of Shelley's wife, Mary. Both are part of the collections at UCL, which is conducting a £25 million fundraising campaign to create a museum the Panopticon, in Bloomsbury.
Mislaid lines
Absent or present still to thee
My friend, what magic spells belong!
As all can tell, who share, like me,
In turn thy converse, and thy song.
But when the dreaded hour shall come
By Friendship ever deemed too nigh,
And "Memory" oer her Druid's tomb
Shall weep that aught of thee can die,
How fondly will She then repay
Thy homage offered at her shrine
And blend, while Ages roll away
Her name immortally with thine
"Well in our country," said Alice, "you'd generally get to somewhere else, if you ran very fast for a long time as we've been doing." "A slow sort of country!" said the Queen. "Now, here, you see, it takes all the running you can do to keep in the same place."
*
Sunday, January 08, 2006
...
BENITO Martínez Abogán, apparently the oldest man in the world, lives in Cuba. He was born in Haiti on June 19, 1880, and has lived through the end and beginning of two millennia.
...
Verses: I
*
Thou hast made me endless, such is thy pleasure. This frail vessel thou emptiest again and again, and fillest it ever with fresh life.
This little flute of a reed thou hast carried over hills and dales, and hast breathed through it melodies eternally new.
At the immortal touch of thy hands my little heart loses its limits in joy and gives birth to utterance ineffable.
Thy infinite gifts come to me only on these very small hands of mine. Ages pass, and still thou pourest, and still there is room to fill.
*
-
Winter skies are cold and low,
With harsh winds and freezing sleet.
But when we make love beneath our quilt,
We make three summer months of heat.
-
(c) Louis Stalder 2001/Atelier HR Giger, Zurich

KORN MIC-STAND

Since I stopped painting, entirely, in 1990, and have been concentrating mostly, on sculptures, my collaborations with musicians seemed to be over until Korn came along. Usually, I become aware of new band only when someone calls them to my attention or if I am sent their music, for some reason. I first heard the name KORN when I was contacted with the proposal to create a special microphone stand for the lead singer, Jonathan Davis. The idea was suggested to him by one of his friends who knew that Jonathan was a fan of my artwork. Since the music has always been the most important thing for me and I must, absolutely, like it before I can work with a band, or even agree to let them use one of my old paintings, first I listened to all the Korn CDs they sent to me. The same day I decided to accept the project, I started making many sketches, at first, in the form of plantlike snakes and vertebrae mixed with technical elements. Meanwhile, Leslie, my agent, went to film the Korn concerts in New York and Philadelphia to show me how Jonathan performed. They called me from his dressing room and I talked to Jonathan for the first time. He told me I had complete freedom to design the microphone stand as I wanted and his only concern was that it had be totally functional and as movable as possible. He also wanted it be Biomechanical and very erotic. After the concert, Jonathan gave Les the microphone stand he was using to send to me in Zurich. It was very useful for me to have it handy to help assure that my sculpture will be the exact height, to have an idea of the approximate weight and feel. In the meantime, the more I listened to the Korn music and watched the tapes, the more amazed I was by the intensity and seriousness of these musicians. In July 2000, when KORN was touring Europe, Jonathan and several of his group members visited the H.R. Giger Museum in Gruyeres, and then came to my home. Since it was still very early in the project, I only had some sketches. We didn't talk much about the designs, maybe Jonathan was too polite to make any criticisms. He is a very nice man and a good singer with absolutely unique music. After the visit, I continued to make more and faxed them to Les. Before becoming my agent, he had been an art director for many years. His opinion is always helpful to me and, from a practical standpoint, he is very good at seeing what will work best for everyone. We discussed my drawings and, with his constructive critique, the figure got thinner and thinner. When Jonathan gave his approval, I started with the first 1:1 clay model with Roni, my assistant, and we emailed photos of our progress to the USA. Over the next weeks, we also started a second, even thinner, clay model, keeping the first one for comparison. Only after I was, finally, very happy with the figure, we proceeded to add the Biomechanical elements. We integrated it with bullets, tubes and wires. When the clay model was finished, we took it to the foundry without waiting for anyone's reaction so I could see what it would really look like after the wax model was done. I liked it so much that I requested an aluminum cast to be made and sent to Jonathan immediately. After testing the prototype, Jonathan decided that my original idea of a pop-up stand, balanced and weighed to spring back when it is pushed over, could become a problem in live performances because of the extra weight it added. Otherwise, he was very happy with the mic-stand and asked for only some minor adjustments, to cut away some of the back-head to expose the clip, so he could grab it more easily. After the stand was returned to Zurich, I made the changes and also cast the second one for him. I hope Jonathan will be able to can work with my microphone stand with the same intensity as before without being limited by it. HR Giger, Zurich 2001

KORN FRONTMAN JONATHAN DAVIS COMMISSIONED H.R. GIGER TO DESIGN A FUNCTIONAL SCULPTURE, A SPECIALLY-DESIGNED, BIO-MECHANICAL MIC STAND CAST IN THE SHAPE OF AN EXOTIC FEMALE.

For KORN's next headlining trek, they'll be accompanied by a deadly yet useful femme

fatale. KORN frontman Jonathan Davis recently commissioned

H.R.

Giger to come up with an idea for a special mic stand which would also be a

piece of functional art. Giger designed, bio-mechanical mic stand cast in

the

shape of a woman. Only five stands will

be manufactured at a foundry in

Zurich from molds that will then be destroyed -- instantly adding to their

historic allure and value. Jonathan has receive two of the stands and an

option for a third, should he decide to need it or to make one available to

a museum of

his choice. Of the other two, one will soon be on permanent

display at the H.R. Giger Museum in

Switzerland, the other will be used in his gallery exhibitions.

"It's awesome," says Jonathan. "I've been big fan of Giger's work ever

since my sister's boyfriend turned me on to him. I've always liked the dark,

vile, biomechanical stuff he creates, but then I got into the erotic side of

his art. I actually have some of his art in my house, so I'm excited that he

even considered making something for me."

Jonathan has recently visited Giger's home in Switzerland. "It was a trip," Jonathan says. "He took me into his house and we kicked back and talked all night. All I did was ask him to make a functional piece of art. So later, he sent me a bunch of drawings and I approved the design of this really sexy, vile, mechanical creature." Cast in metal, Giger's design features an otherworldly, oversexualized female creature. Jonathan's microphone is integrated into the sculpture's head. "I really like it, because I'm totally into Giger's erotic work," Jonathan says. "He took me riding in a train he built for himself, a realization of his childhood dream," Jonathan enthusiastically recalls. "It's like this two-seater death train. You drive through his backyard around his Zodiac Fountain of twelve amazing sculptures and through narrow tunnels just big enough to squeeze a body through. It was eerie. He's such a unique character. Dark yet, at the same time, very human."

For press inquiries about the Giger/Korn mic stand, please contact: Leslie Barany

Read the cover story in the March/April 2001 issue of REVOLVER magazine, "KORN'S JONATHAN DAVIS 'HEAVY METAL SEX MACHINE", as a PDF download in the ARTICLES archive at www.LittleGiger.com. NOTE: For special design commission by H.R. Giger, please contact his agent, Leslie Barany, at 212-684-2225

Photos by Clay Patrick McBride

May, 2001 MAXIM magazine (c) 2001 Anthony Mandler

(c) 2002, Atelier H.R. Giger, Photos by David Jahn Korn concert at Hallenstadion, Zurich, September 3, 2002

(c) 2002, Atelier H.R. Giger, Photos by David Jahn Korn concert at Hallenstadion, Zurich, September 3, 2002

(c) 2002, Atelier H.R. Giger, Photos by David Jahn Korn concert at Hallenstadion, Zurich, September 3, 2002

Carmen, Jonathan & HRG backstage (c) 2002, Photo by David Jahn

Jonathan in concert (c) 2002, Photo by David Jahn

Jonathan & HRG with Biomechanoid 2002 sculpture (c) 2002, Photo by David Jahn

© 2002 Barbara Wegner -

barbbee_2002@yahoo.com

© 2002 Barbara Wegner -

barbbee_2002@yahoo.com

© 2002 Barbara Wegner -

barbbee_2002@yahoo.com

© 2002 Barbara Wegner -

barbbee_2002@yahoo.com

back to MUSIC...
Saturday, January 07, 2006
BBC audio interview with George Arney, January 2, 2006.
Friday, January 06, 2006
We all have seen those ads:
"Hot, hung GWM stud, 9x6" tool seeks..."
and yet, when the pants come off, we are left wondering where that "hot hung stud" might have left 2 of his 9 inches. It is not uncommon for a man to "guesstimate" the size of his penis now and again. At other times, some men will measure and think, "That CAN'T be accurate! It seems much bigger than that!" and they re-measure from a starting point that will give them the length they desire ~ a size that sounds more "manly" to them. The most shameless among us will wantonly embellish their penis size with no regard to honesty. Hey... if they can fool you into believing 6 is 8, all the better.
Unfortunately, padding your penis-size only serves to undermine the true impact of the real figures. For example, when one man calls his 6-inch cock an 8-incher, he might fool his partner into believing that his average size dick is actually the stuff of which horsecocks are made. The next guy, an honest man with a true and appreciable 7", may in turn find himself turned down by the size queen who has been duped into believing 6 inches is supposed to be 8.
Moral bankruptcy and the fall of civilization are surely around the corner... Remember, you can put a Cadillac emblem on a Yugo but that won't make the car a Cadillac. Saying your dick is bigger doesn't make it so.
Oh, and let no man tell you he doesn't know the size of his penis... every man has measured his at least once in his life, even if inaccurately. If he hasn't, he's probably ultra-straight or lying.
You wouldn't build a house based on whether or not your lumber "looked" like it was eight feet long or so, so why use such improper techniques when assigning dimensions to your most personal and coveted attribute? In order to help eliminate the confusion and hurt feelings caused by this misrepresentation, we present to you a do-it-yourself guide for measuring your penis correctly.
To play her like a cello:
set her form first between my knees
allowing my fingers to gently caress her smooth surface,
the shine of her skin proving to be a sign
of careful attention.
I imagine the music I will make with her,
first hearing it on some distant wind
before committing it to reality.
My hands trace her curves like the sides of the cello-- stroking from slender neck over soft shoulders and breasts past the dip of torso to linger at her hips,
savoring the texture of flesh like the grain of wood.
It is then that I bring my hands to her shoulder blades,
palm sliding down her spine languorously,
bowing her back,
strumming the first notes of pleasure from her.
Her spine becomes the strings and frets and chords
and I play her like a cello--
finely tuned and longing to rise to the challenge
of fulfilling her potential.
There is a deep fire in the song of ecstasy she plays;
low sonorous moans reaching my ears
driving me to increase my skill for making music.
I slide my body further down
keeping my living instrument between my thighs,
my hands pressed to the curve of her hips
and my mouth becomes the bow my fingers were;
lips playing tender kisses down invisible strings
tongue gliding up the spine
from tailbone to the nape of her neck
and back down again.
My mouth
her body
and the music we create with her eager flesh.
Thursday, January 05, 2006
*
*
Wednesday, January 04, 2006
"How far you go in life depends on you being tender with the young, compassionate with the aged, sympathetic with the striving and tolerant of the weak and the strong. Because someday in life you will have been all of these."
--George Washington Carver
There is more than one path to the truth and it is not always in plain sight... Here are articles, stories, music and various thoughts on what it is to be Neo-Pagan.
Some people may be offended by the prospect of Satanic rituals propagating across the 'Net, PAGANISM HAS NOTHING TO DO WITH SATANISM! 'nuff said.
Besides, nobody's forcing you to browse these pages and possibly learn something... ;-)
Tuesday, January 03, 2006
Monday, January 02, 2006
By Richard Neville 1. Of whatever persuasion, religious fundamentalism is a global curse.
2. As is market fundamentalism.
3. The CIA is probably the mother of all terrorist organizations.
4. The world's "most powerful democracy" is not a democracy. It is an oligarchy. The US is run by a surprisingly small number of power brokers who revolve through the doors of the White House, Big Oil, Defence, Security, Trade, Embassies, the World Bank and numerous blue chip boardrooms.
5. This elite, plus the CEO's of major global corporations, are the true manipulators of the modern world. Yet few have faced elections.
6. Those who screw up, attract unwanted attention, or are caught with hands in the till, are often promoted out of the way.
7. A handful of boardroom tycoons own and control the mainstream media.
8. Anyone who aspires to high office in a Western democracy must cultivate the media and accept that boardroom power is today's major driver of global affairs.
9. The high players embedded in these institutions – corporations, banks, media, government, IMF, WTO, etc – the "corporatocracy" – are united by a core credo: THERE IS NO GOD HIGHER THAN PROFIT.
10. This is the mindset that fuels endless growth, even as fossil fuels choke the planet.
11. Such a mindset imperils the future.
12. It is this mindset that says its okay to Wallmart the world, because the consumer gets more choice, even although the choice is largely illusory. What's the point of offering 30 brands of toasters at the cost of "one-quarter of all plant and animal species" being doomed to extinction, because of global warming? (Nature magazine).
13. The greed-is-good philosophy is justified on the grounds that it spreads the wealth around. True, it spreads the wealth around the boardrooms. The income gap between the rich and the poor keeps widening. The richest 1% of Americans own more assets than the other 99% combined. Is this fair? Both within countries and between countries, such wealth gap keeps expanding, but few Western politicians will talk about it for fear that Rupert Murdoch's media will call them Communists.
14. The top 5% of the world's pop has an income 200 times greater than the bottom 5%. (In 1980, the ratio was only 6 to 1). Worldwide, downward mobility is more common than upward mobility.
15. A future of dramatic wealth redistribution is inevitable.
16. And is gathering momentum in Latin America.
17. Popular culture promotes global warming. It fans the flames of consumer desire and hastens obsolescence. Mainstream media, the movies, marketing, advertising, branding, celebrity endorsements, etc, put hyper consumption at the core of human existence. The Shopping Religion dwarfs traditional faiths.
18. By 2050, the world population, barring pandemics and/or climate shocks, is expected to reach 9.1 billion. At today's consumption levels, this will increase the demand for oil tenfold. Yet the supply of oil is nearing its peak, or past its peak.
19. Which is why the wars to secure future supplies of oil (and water) have already begun.
20. Hollywood cultivates a taste for violence. Just as the Westerns of the 1950's endorsed the slaughter of Native Americans, today's blockbusters legitimise sadism. In this season's highly acclaimed hymn to collateral damage and spouse bashing, Mr & Mrs Smith, it is taken for granted that the CIA has a right to liquidate anyone on the planet. Further, that the assassin's role is noble, as well as lucrative, sexy and cool. All of life's problems, including a grim marriage, can be solved with guns, explosions and a vicious beating. Followed by orgasm.
21. In 2005, global military expenditure was expected to reach $1 trillion.
22. In the last 5 years, doublespeak has thrived. More than ever, the statements of political leaders are the reverse of the truth. When Condoleezza Rice tells the world that America is the land of laws, she is the mouthpiece of outlaws. While George Bush was saying he does not condone torture, he had already authorised torture and was denying its use, even as footage from Guantanamo Bay showed unconscious prisoners on stretchers returning from interrogation.
23. Hunger strikers at Guantanamo Bay are being force fed with plastic tubes inserted into their stomach through the nose, a painful procedure, even at the hands of medical specialists. Some tubes used by guards are said to be "larger than normal".
24. Prior to the turn of the century, only a few intellectuals publicly argued that America was no longer a noble nation, as advertised. By now, it has become obvious to anyone with a passing acquaintance with foreign affairs, that George Bush's America is the world's deadliest Rogue State.
25. The plague of lying and law-breaking began to spread from the White House to its allies on the eve of the 2003 invasion of Iraq, itself regarded as illegal by the world's most eminent lawyers.
26. Among the few invading nations who lined up to brown-nose Uncle Sam without being bribed, no tongue licked longer or more vigorously than that of John Howard, the Australian Prime Minister. He disallowed a debate in Parliament. He dismissed the huge turnout of peaceful protesters as "a mob". He was still pretending he hadn't made up his mind about the war, long after authorising the Special Forces to blow-up Iraqi infrastructure.
27. Australian protestors have been jailed for burning their country's flag. The men who ordered the torching of Iraq have still not been arrested.
28. Howard's enthusiasm for war was not driven by revenge. He seemed to act from fear. Perhaps the fear of 242 million Indonesian Muslims on Australia's doorstep. His long held terror of The Other may have bonded him to Bush and his seemingly invincible legions. Or was Howard's fear even deeper, a fear of a values shift, a fear that the status quo was under threat, a fear that a new consciousness might arise and seek from him more than he could give, more than bread and circuses? Meanwhile, there is no crime that America could ever commit in its terror wars, that will shake the loyalty of John Howard, who George Bush rightly calls his deputy sheriff.
29. Truer now than ever: Even if you are not interested in politics, politics is interested in you.
30. When the Australian military became aware of the porno-tortures at Abu Ghraib, it tried to hush them up. One of its officers, then attached to the Pentagon, wrote to the International Red Cross, trying to refute the rumours of abuse.
31. The deaths of well over a 100,000 Iraqis and the mutilation of many more, is still being justified by George Bush as the price of "spreading freedom". What is this freedom? It is not freedom of the press. The US military has shot and jailed non-embedded journalists, it has closed down independent newspapers, it has bombed media offices, it has paid bribes to publish false stories. Is it political freedom? Iraq is in the process of moving from a secular tyranny to a fundamentalist theocracy. No-one knows for sure what will happen, but it is unlikely to replicate the golden age of Athenian democracy.
32. The US has used more illegal weapons on Iraqis, including chemical weapons, than were ever used by Saddam Hussein, (either on his own people, or on anyone else).
33. At least 35 nations have weapons of mass destruction in their military stockpiles, the U.S. more than all others combined.
34. The ferocity of the November 04 assault on the citizens of Fallujah exceeded by far the 1937 Fascist bombardment of Guernica, but as yet no Picasso has emerged to immortalise the atrocity. While mainstream journos were a-bed with the perpetrators, it was left to freelancers and the bloggers to blow the gaff. (The terror-war mindset has turned us into what we're supposedly fighting against - http://www.richardneville.com/satire/satire030605.html).
35. The heads of Halliburton, Boeing, Bechtel and other defense giants are seated on the boards of corporate media. The Carlyle Group, an investment bank with a huge stake in the arms industry, graces the board of the New York Times. The Washington Post hosts Lockheed Martin, whose latest warhead "successfully demonstrates lethality against urban structures". Bombing the cities of Iraq does more for the corporate bottom line than publishing true accounts of the impact of the bombs.
36. Which is why to Western eyes, the nightly air strikes on Iraqi dwellings are invisible.
37. Among major defense contractors with shares that trade on Wall Street, the average pay for CEOs has tripled. And these are the wimps. DHB Industries makes bulletproof vests. Prior to the 2003 invasion of Iraq, its chief executive, David H. Brooks, took home an annual salary of $525,000. Three years later, Brooks collected $70 million, a pay increase 3,349 per cent.
38. Both NBC and the Washington Post have board members who sit on the board of Coca Cola. The NY Times shares a board member with Pepsi, another board member with drug giant, Eli Lilly, another board member with Ford … and so on. So while the media has been dragged kicking and screaming to accept the likelihood of climate change, don't expect a feverish promotion of a carbon neutral lifestyle any time soon.
39. As Einstein pointed out, you can't solve serious problems with the same mind set that created them. You can't deal with climate change without experiencing a change of consciousness. We're already half way through the first decade of a new millennium, and our leaders are still stuck with a medieval mindset. And we're stuck with them. Meanwhile, many thousands of citizens have moved on from the Newtonian view of the world, with its focus on certainty, dualism, us-against-them, good-against-evil. A post-modern age requires a fluid sense of strategy, deep empathy, the acceptance of multiple stories. It seeks from leaders a way of coping with paradox, a flair for handling complex projects in surreal environments, an understanding that holistic thinking matters more than spin, trickery and photo ops. While such a mind shift is gathering speed at the grass roots, the mentally decrepit "survival of the fittest" war-horses at the top are trying to quell the new awakening with the age-old strategy of invoking FEAR. It is a strategy that comes easy, as their own demons rise up to haunt them, and they desperately seek to unloaded their terror. But the global mind shift required for a sustainable future is underway, and grass-roots groups are cleaning up waterways, reforming third world aid, shining a light on injustice. Their rallying cry becomes ever more relevant: "Another World is Possible. Let us build it."
40. Among these activists was Nkosi Johnson the heroic South African AIDS sufferer who was asked, not long before he died, aged 12, what motivated him at such a young age and with such a debilitating illness to campaign so tirelessly for his fellow sufferers. His answer speaks for everyone: "Do what you can with what you have, in the time you have, and the place you are".
http://www.richardneville.com
www.richardneville.com
Richard Neville has been a practicing futurist since 1963, when he launched the countercultural magazine, Oz, which widened the boundaries of free speech on two continents. He has written several books, including Playpower (71), the bio of a global serial killer (79), his sixties memoir, Hippie Hippie Shake (95) and his latest handbook of social change, Footprints of the Future. A social commentator and a professional futurist with a sharp tongue, Richard is based in Australia, where he continues to "stir the possum".
NEW YORK, DECEMBER 31, 2005
If life is often a matter ofsplit seconds—the train door that closes in your face, the chance encounter with the love of your life, the near-collision with an oncoming truck—then the universe is about to bestow upon us a generous gift: the leap second.
Just before midnight Greenwich Mean Time on New Year's Eve, one second will be added to our official record of time—coordinated universal time, kept by a series of atomic clocks, housed in environmentally sealed vaults in about 80 timekeeping laboratories around the world and certified by the International Bureau of Weights and Measures in Paris.
The reason for the extra second is simple: the earth is slowing down. Since the days of Sir Isaac Newton, scientists have understood the time it takes for the earth to make a full rotation is getting longer. The gradual deceleration is caused by the gravitational pull of the moon.
The discrepancy is something we have only recently become able to measure. That happened in 1958 with the advent of atomic clocks, which measure time using the resonant frequency of a cesium atom.
When a 24-hour day, as measured by the atomic clocks, becomes more than 9/10th's of a second shorter than a solar day, those in charge add the leap second.
Sunday, January 01, 2006
the Bloggies I Ching for this last day of 2005!
the Question:
what is ahead for this year?
50. NOURISHMENT
Here, worldly deeds are given up for the nourishment of a higher spiritual essence. Appreciate anyone who reveals the divine. This will bring great good fortune. Spiritual understanding illuminates our vision of earthly matters.
Line 5: If you are available, honest and unassuming, you will easily find people willing to help you with your projects. Continue your self-improvement through introspection and learning.
2nd part:
44. TEMPTED TO MEET
Negative people tempt you to temporarily depart from you own ethical standards. You think that it would not hurt anything to indulge yourself a bit, but if you do, you will become caught up in the negativity. Relationships based on deceit and ulterior motives are harmful. Dynamic, positive relationships, on the other hand, quickly spread their good influences.
Posted by: Sunshine Jim at December 31, 2005 04:58 PM *
Tarot of The Cat.
the Question: what is ahead for this year?
The Suit of Cups
Azengir, The Topaz Kingdom
Two of Cups (right side up)
In cooperation and partnership, both figures are alike and face each other.
They are the same size, as both are equals.
The cat's head looks over each figure.
Divinitory Meaning:
Love.
Friendship Begining or Renewed.
Passion.
Union.
Engagement.
Understanding.
Cooperation.
Partnership.
Marriage.
Posted by: A. at January 1, 2006 03:16 AM
*
Tarot of the Spirit
the Question: what is ahead for this year?
Suit of Wind
The Will To Transcend
Divinatory Meaning:
An Analytical period; thought is very powerful; the power of intellect is bounded by neither time npr space; your ideas are brilliant and highly rational, but as you move through intense mental processed, do not lose touch with your self as a spiritual, loving, and physical being.
Interpretation:
The Wind Father is the power of idea and motion, the spirit of the intellect, the flame of the mind. He is the power of the Wind. When the Wind Father raises his sword-the power of his mind-flames leap, waves rise, leaves scatter.
-more- (if you wanna read more)...
*
This is a time to examine the possibilities and move forward with courage and passion. This year will bring movement towards resolving the incomplete foundations set forth from the last year.
Be daring, and don't vacillate. And keep your charm while you kick ass.
Posted by: Exhausted Blogger at January 1, 2006 03:56 AM
*
Wind Father's intelligence is highly analytical and his precision is exacting. He stands as a firm and frugal judge of the ideas put before him. His judgement, however, may be informed by one of two directions, depending on his level of spiritual attunement and commitment. In the baser state, Wind Father is informed only by mundane status quo expectations. His judgement will be conservative, in alignment with dominant social values. This Wind Father's reasoning is perfect, but based wholly on popular science. Thus, his advice may have its limits. He may dismiss anything that cannot be validated by scientific research, and such research is, by definition, limited.
The less developed Wind Father overlays analytical system upon analytical system, devoting much time to evaluation. He may become defensive about his ideas. In the most harmful of negative cases, he may seem full of "hot air". In the worst cases, since he represents the power of the intellect,he could become and undeviating ruler., fierce and offensive, causing chaos in the name of order. He is only fierce because he fears, however since he represents the power of motion, he may be violent and terrible in his fear, totally selfish and cruel. Without the controlling factor of empathy, Wind Father has the potential to rage like the dreaded Wind of 120 Days that has buried Iranian villages with an incredible force of flying sand.
In his more complacent mode, the underdeveloped Wind Father may slash fruitlessly at air, drawing conclusions that are totally useless, or building level after level of analysis, until his conclusions are completely removed from the object of his contemplation. In fact, he may pride himself in such games.
The more developed Wind Father knows that "analysis presupposes a corpse." At a higher level of attunement, he is perfectly informed by the divine mind. He is informed by the cosmic will and acts and judges accordingly.
How well the Wind Father can apply his vast stores of knowledge to his daily life, and indeed to others through supplying his intellectual leadership, depends on how well he works within the guidance of the Great Spirit. His motivation is of critical importance. He must understand the divine nature of his own unique contribution.
He must understand that he is not the source, but the channel. Further, he must transcend the expectations or seeming requirements of popular culture, which may his most difficult task. Wind Father has a responsibility to use his wonderful capacity to move humanity's thinking forward, not to defend outmoded or harmful ideas. This means that the Wind Father must learn how to "think on his feet," always aligning himself with divine and sacred values. Accordingly he must learn to judge the relevance and goodness, of ideas, which entails developing and "moving" and freeform analytical process. This process is no less rigorous than the scientific method.
If Wind Father can come to understand the patterns of his own intellect, and begin to align himself with the Wind of divine reason, he will have the capacity to move to incredible heights. He must understand that human science is growing. There is much that cannot be explained via a rational, analytical process. Science is, by nature, imperfect, but the truth is, by nature, perfect. In his exalted state, Wind Father thinks according to higher truth.
To discover, utilize and apply his fullest ability, the Wind Father needs to attune to conscience. Of the product of his analytical process, he should ask: "Is it safe?, "Is it good?", "Is it important?", "Does it matter?", "Will it preserve and enhance the MOTHER EARTH?" Will it relieve the suffering of humanity?"
The challenge of the Wind Father is to realize his greatest strength will be found in softness. Softness entails receptivity. Using too much strength (to defend or promote a position) is a dangerous weakness which can lead not only to getting lost, but to terrible deeds. This is a time to build a "moving" analytical system, and thereby to build a quiet confidence. This confidence is built by seeing anew. To get a new perspective, Wind Father tunes into the unconscious stream, and he attunes to the dictates of his conscience. He asks himself, how do I feel. (see I Ching: Hexagram 9: The Lesser Nourisher)
(whoa SJ)..
Posted by: A.
ya sis, everything interconnected...
success through gentleness
9. SMALL RESERVES
It isn't time to try anything ambitious. The time is not entirely unfavorable and eventually you may have success, but you have encountered obstacles, and for now you can only make progress in small ways. Follow the natural flow - know when to back off and not force the situation.
Posted by: Sunshine Jim at January 1, 2006 05:00 AM
Subscribe to Posts [Atom]